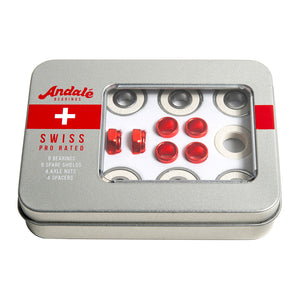 If you feel the need for speed then the Swiss Pro Rated bearings kit from Andale is for you. Manufactured with Swiss precision and made to take on the harsh conditions you put your wheels through, these bearings are the perfect addition for any skater that wants to take their speed to the next level. These bearings are designed with a removable rubber shield to easily clean your bearings and protect them from the elements, precision-polished chrome steel for reduced friction, and grade 5 steel balls for max speed.
Swiss Pro Rated Bearings from Andale.
Grade 5 chrome steel balls.
Precision-polished chrome steel races.
Removable, frictionless rubber shield.
Lubricated with synthetic oil lube for reduced friction.
Set of 8 bearings, 8 replacement shields, 4 bearing spacers and 4 axle nuts.
Imported.